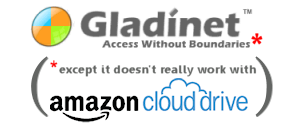 More accurately, Gladinet Tech Support can't fix a three-month-old issue that completely breaks Gladinet Cloud Backup's reliability as a backup tool when using Amazon Cloud Drive.
The root issue is simple: your Amazon Cloud Drive login credential expire after 48 hours. After that, you or any services that access your Cloud Drive account have to log in again. Gladinet apparently didn't realize that when they added Amazon Cloud Drive as an option.
So if you leave your computer running, your Gladinet scheduled backups will work for two days & then start failing. Not only will they fail, but there is no active notification that they are failing … a worst-case backup scenario.
Gladinet support acknowledged the problem immediately, which is the one single good thing I'll say about them. The downward trend toward awful customer service started one month later, when I checked in & this was their response:
Sorry there is no update yet. And right now we don't have an ETA either. We constantly exam all the open bugs. However, sometimes there are other more urgent to fix first. For now, please restart Gladinet within couple of days.
You'd think this bug would be pretty urgent, right? At least urgent enough to fix over several months. Or should I really be content knowing that apparently there are many more urgent bugs that need fixing?
Having the same problem? Follow my support forum topic here. Here's another post about the same issue by another user from September 29, 2011.
To make matters slightly worse, the Gladinet Support forum search has been broken for several months as well. But they've been busy fixing more urgent website bugs, no doubt.