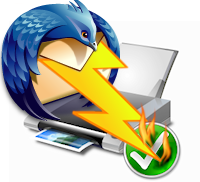 I bought a new printer, a Canon MX860. As all-in-one printers go, it's fantastic. Soon it was knighted as my new Windows' default printer.
Everything was happy in Printerland until I tried to print an email from Thunderbird. Thunderbird kept selecting my old printer — I had left the old printer driver installed — and each time I had to change the printer back to my new Canon. Granted, that's a pretty minor annoyance, but let enough minor annoyances pass you by & soon they get together & storm the castle.
Turns out Thunderbird stores its own default printer setting & if it's set, the Windows default printer gets completely ignored. Worse, Thunderbird's default printer setting is about as hidden as it gets:
Tools menu -> Options -> Advanced -> General tab -> Config Editor button
filter the list by typing "printer" in the Filter box (top of the screen)
find the print.print_printer setting (who names these settings, anyway?)
right-click & click "Reset".
That does the trick!
UPDATE 12/11/12: Recently some people have reported back that:
print.print_printer doesn't show up in the settings anymore & it's print_printer now
they had to reset both print.print_printer and print_printer
Hope that helps!