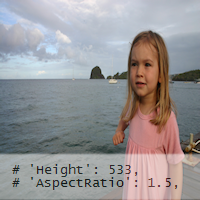 I batch-process-resized some photos in PSP X2, & realized too late (after I had emailed 90 photos off to various relatives) that everyone appeared a little taller & thinner than they normally are. Not so bad right? Except that headshots look a little weird. The photos were taken with different cameras with slightly different aspect ratios.
So here's an easy way to batch process/resize photos with a PSP X2 script, each to their correct aspect ratio (fixed width, variable height):
Open any one image.
File, Script, Start recording … resize the image.
File, Script, Save recording … save it under your scripts folder, which is generally Documents/My PSP Files/Scripts-Restricted/
File, Script, Edit.. browse to your scripts folder & select the resize script that you just saved.
click the Text Editor button
delete or comment out (# in front of the line) the 'Height' AND 'AspectRatio' lines. Setting them both to None works too. Make sure 'MaintainAspectRatio' is set to True.
Save & enjoy not looking warped.